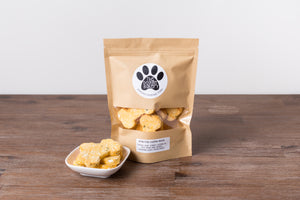 Grain Free Bikkies - Coconut and Sweet Potato
Regular price $10.50 Sale
Does your dog have a digestive issues or has itchy skin? We have found that more and more dog owners are coming to us stating their dogs have sensitivities to grains and to ensure these dogs don't miss out on yummy bikkies we made these coconut and sweet potato bikkies.
Ingredients - coconut flour, homemade sweet potato purée, free range eggs, fresh parsley and organic coconut oil.
If you're not 100% satisfied with our products then we will exchange, replace or refund.
90g
Shelf life 12-16 weeks.