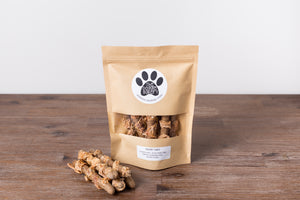 Chicken Twists
Regular price $13.00 Sale
One of our best sellers, and for good reason! It's known to please even the fussiest of eaters. It is a bikkie jam packed with meat! The stick is made from chicken livers (with wholemeal flour and free range eggs) and then wrapped with slices of chicken breast. 
Weight - 130g (approx 8-12 twists depending on thickness and size).
Shelf life 12-16 weeks (though who are we kidding? Your pup will devour them wayyyyyy sooner!)
If you're not 100% satisfied with our products then we will exchange, replace or refund.