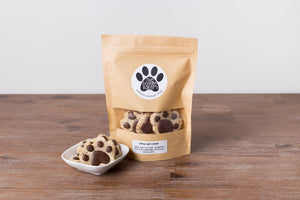 Carob-chip Paws topped with carob
Regular price $11.50 Sale
A perfect afternoon treat for your pup! It's a doggie version of a chocolate chip cookie! And we all know how hard those adoring eyes are to resist when we're enjoying our afternoon tea! Now they can have a carob chip bikkie while you're enjoying your chocolate chip cookie!
They also make wonderful pawty favours, we can even cover them in naturally coloured melted yoghurt drops to suit the colour theme of the pawty! Just let us know in the comments if you'd like to substitute the carob topping with yoghurt!
Ingredients - Australian Grown Rice flour, Wholegrain Oats, Unsweetened carob and Free range eggs, covered in melted unsweetened carob drops.
Includes 10 bikkies (roughly the size of a 50 cent coin). Shelf life - 12-16 weeks.
If you're not 100% satisfied with our products then we will exchange, replace or refund.