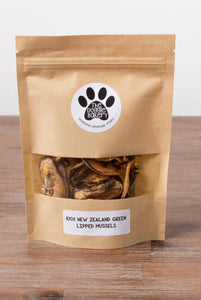 100% New Zealand Green Lipped Mussels
Regular price $13.50 Sale
These little jewels are considered a super food! They have anti-inflammatory properties to assist in decreasing the inflammation associated with arthritis in dogs, and therefore helping to alleviate pain. These are perfect for pups of any age and condition, but can be especially helpful for those with arthritis or other inflammatory condition.
Weight - 95g
Shelf life - 12-16 weeks
Country of origin - New Zealand. 
We purchase NZ Green Lipped Mussels from our fish monger and we simply dehydrate them. There is absolutely no need to add anything, so we don't! 
If you're not 100% satisfied with our products then we will exchange, replace or refund.