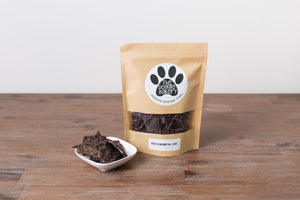 100% Kangaroo Loin - 100g
Regular price $15.00 Sale
Kangaroo is one of the leanest red meats available and is also hypoallergenic so gentler on pups with a sensitive tummy.
Dogs who are overweight and/or prone to pancreatitis need to avoid fatty treats but kangaroo is so lean that it's not a problem for these dogs. Not only that, it's also high in protein and perfect for dogs with diabetes and has lots of Omega-3's that have anti-inflammatory properties.  
This kangaroo meat is sourced in NSW from Open Range Farms with no antibiotics or chemicals added then hand-cut and dehydrated.
If you're not 100% satisfied with our products then we will exchange, replace or refund.
Weight - 100g. Shelf-life 12-16 weeks.